Roll over image to zoom in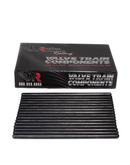 Description
The Brian Tooley Racing truck camshafts are an excellent choice for GM trucks and SUVs equipped with 4.8L, 5.3L, and 6.0L engines. The camshafts are designed to increase power without sacrificing low-end torque and are great choice for heavier vehicles such as: Avalanche, Escalade, Sierra, Silverado, Suburban, Tahoe, Trailblazer, and Yukon.
These camshaft are a 3 bolt design and will fit Gen III and IV engines from 1999 and up.  If your engine has AFM or VVT, those will need to be deleted in order for this camshaft to work.
KIT CONTENTS

- Your choice of BTR "No Springs Required" camshaft (Stage 1, 2, 4, or Truck Norris)
- MLS Head Gaskets
- Front Cover Gasket
- BTR hardened 7.400" length 5/16" pushrods
-

Your Choice of Lifters with Lifter Guides
BTR Truck Cam Specs
- Stage I Camshaft Specs (BTR30612120): 208/209 .492"/.492" 107 LSA
- Stage II Camshaft Specs (BTR31218110): 212/218 .480"/.480" 111 LSA
- Stage IV Camshaft Specs (BTR32430090): 224/230 .480"/.480" 109 LSA
-Truck Norris Camshaft Specs (TRUCKNORRISNSR): 221/22X .500"/.500" 107 LSA
Note:  Custom tuning is required
Payment & Security
Your payment information is processed securely. We do not store credit card details nor have access to your credit card information.