Roll over image to zoom in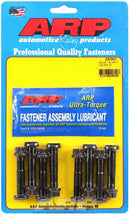 Description
Connecting Rod Manufacturer: Stock
Cap Retention Style: Through-bolt
Rod Bolt Head Style: A
Rod Bolt Nut Style: Hex
Fastener Yield Strength (psi): 200,000 psi
Connecting Rod Bolt Material: ARP2000 alloy
Nuts Included: Yes
Quantity: Sold as a set of 8.
ARP Pro series Wave-Loc rod bolts have a symmetrical "wave" on the shank that eliminates stress risers. These bolts also have a .0005 to .0070 in. interference fit to guarantee rod cap alignment and actually strengthen the connecting rod. Made from ARP2000 alloy with a tensile strength of about 220,000 psi, they can handle more than 12,000 lbs. of clamping force. Nuts and lubricant are included.
Payment & Security
Your payment information is processed securely. We do not store credit card details nor have access to your credit card information.