Roll over image to zoom in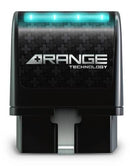 Description
No more annoying Start/Stop in stop and go traffic! If your GM vehicle has Auto Start/Stop, we have the solution!
Features:
No more hesitation when restarting after stopping in traffic!
Save on costly repair bills in the future by turning off Start/Stop
Simply plug into your onboard OBD-II port and it instantly begins working to eliminate the Auto Start/Stop system.
The Range Start/Stop Disabler does not reprogram your factory ECU.
Leaves no trace. Unplug it to return to factory settings
Fits all V6 and V8 General Motors (GM) Auto Start/Stop vehicles, includes cars, trucks, and SUVs.
Fitment
2018-2020 1.5L L4
2018-2020 1.6L L6
2018-2020 2.0L L4
2016-2018 3.0L V6
2007           3.5L V6
2015-2020 3.6L V6
2006-2009 3.9L V6
2015-2018 4.3L V6
2005-2020 5.3L V8
2007-2018 6.0L V8
2009-2020 6.2L V8

Payment & Security
Your payment information is processed securely. We do not store credit card details nor have access to your credit card information.